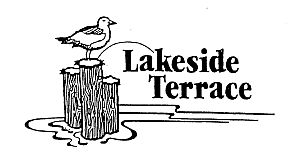 The Seagull Soundings
The newsletter for Lakeside Terrace Residents

Coffee & Donuts
Saturday - October 1st
Clubhouse
Provided by Chet & Vera Brown
8:30 a.m. - ?????
Reminder: Volunteers are needed for Saturday morning coffee & donuts. There is a sign up sheet for October on the bulletin board. It's an easy job - buy donuts and make coffee (Social Club provides money for donuts and supplies the coffee). FYI for our new residents - every Saturday morning we have coffee and donuts at the clubhouse - it is a great way to meet and get to know people.
REMINDER
Social Club Meeting October 4, 2005
7:00 p.m.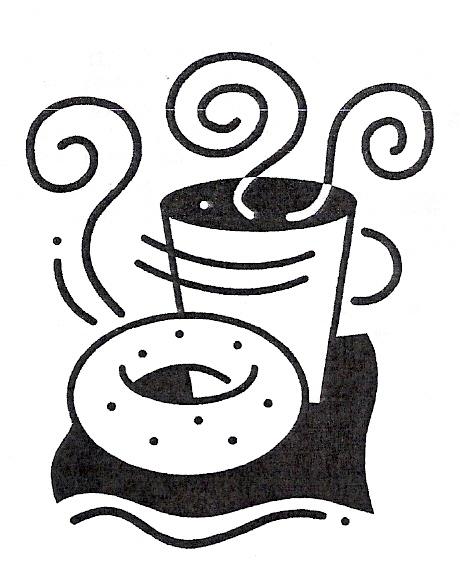 For the Month of September, 2005
To our neighbors who were ill or hospitalized recently, we wish for you all better days and healing too, combined with good cheer and strength.
A Get Well Card was sent to Charlotte Spence and A Sympathy Card was sent to the family of Audrey Calhoun
Blood Pressure Checks
will resume on
Tuesday, October 4, 2005
from 9am - 10 am
and every Tuesday there after.
In the Pool Room at the Clubhouse
Michele Lennon R.N.



LAKESIDE TERRACE UPDATE
October 2005
It won't be long and our winter residents will be heading back to sunny Florida. We have had a busy summer - Memorial Day Party, 4th of July Party and Labor Day Party. Plus we have had 3 cocktail parties and one luncheon. Oops - I left out the Madri Gras Party in the list of events - it is normally held the end of January - sorry for the oversight.
There are several other events that have been proposed and will be included in another article. If you have any ideas for events, please contact one of the board members.
HALLOWEEN: Norma Fudge will be co-chairing the Halloween Party with Lynne Seeley. Norma has some ghosts and goblins who have offered to help.
THANKSGIVING DINNER: New residents - Faye & Marvin Adams - have graciously agreed to chair the Thanksgiving Dinner this year. Thank you very much.
BINGO: Jan Bohlinger, bingo chairperson, has informed me that bingo should begin on October 10th. If there is a change - it will be posted on the bulletin board.
HOT TUB/SPA UPDATE: We were hoping that we could report that the hot tub/spa was completed but unfortunately that's not the case. Most of the plumbing work has been completed and we are now waiting for the concrete to be poured. I want to assure you that we (Edd & I) have been in the manager's office on a weekly basis (sometimes 2-3 times) checking on the status of the hot tub. Unfortunately due to things beyond our control and the manager's - work has not progressed as we had hoped. In Florida you learn that things are not done in as timely a manner as they are in other areas.
RENT INCREASES: Notices will be mailed out by the time you receive this Seagull but according to your prospectus - annual increases will be based on

no less than $5.00 or the increases in the Consumer Price Index, whichever is greater. Therefore your base rent will be increased by 3.2%. To see if your increase is correct, multiply your current rent by .032 and add that amount to your present rent to get the new rental amount. For example:
$250.00 2005 Rent $250.00 2005 Rent
X .032 CPI % + 8.00 Increase
$ 8.00 Rent Increase $258.00 2006 Rent
FMO ARTICLE - WITHHOLDING RENT: Several people have commented to us and to the managers that the residents should withhold their rent or a portion thereof. The following is an article that I scanned from the current FMO magazine. Hopefully this will answer your questions regarding this procedure.
Can residents withhold rent in protest?
Question: Are we allowed to withold our monthly maintenance and rental fees from our Park Owner (and place them in an escrow account) if the residents are unhappy with park management? Our park was bought two years ago and many of the promises made by the new owners have not been fulfilled, including promises to enforce local (city) regulations and the 55+ policy.
Answer: Monthly rental fees cannot be withheld even if the residents are not receiving what has been promised by the Park. There was a case in 1995 whereby the renters in a mobile home park placed their disputed rent into an escrow account which the judge authorized. The Park Owner appealed and the Appellate Court came back and said that there was no authority for the residents to do that. As a result, the residents had to not only give the money that was in escrow to the Park Owner, but all the interest that the Park Owner would have gained on that money during that time period. If the Park Owner is not properly maintaining the Park and has not followed through with promises which were required to comply with the Rental Agreement with the park residents, then the park residents should bring an action against the Park Owner for breach of contract and breach of any other agreements that could be proven.
We really appreciate your support, cards and kind words when Edd's Dad passed away in August.
Carole Kolbe, Social Club Preident
Edd Kolbe, HOA President

Hello Friends:):)
Well it looks like some of those lucky friends that spent the summer in the cool North have begun to arrive in their winter paradise, Lakeside Terrace. I know they will find a few things different. Like the new homes beginning to take shape and of course the hole in the ground by the pool.
Things are moving ahead but not as fast as we would like. Thats okay, why get in a hurry at this stage of life?
One thing I would like to address is, When you have questions that need to be answered why not come to the manager and get the answer that you are looking for? You have a very nice HOA president but if he doesn't have the answer that you need, then it can become bothersum to him. This is a nice community and we can all make it even better by not being picky, picky, picky. I don't mind you coming and asking questions. I guess I'm pointing to those who haven't had the time or taken the time to get to know Vera and me. I will always give you an honest answer and if I do not have it, will go to the person that has the right answer. These communities are here for seniors to enjoy their retirement years and that is what we need to work at and do it together.
I think you all know that I would have loved to have had the spa in three months ago and as far as I could see there was no reason for it not to have been that way but getting upset would never have helped. All I could do was keep my nose to the grindstone and keep the right attitude. Without getting upset the spa is headed in the right direction now and talking to the workers it should be finished in a couple week. I know," we've heard that before" but it will happen.
The summer has been great, getting to know those who live here year around. Seeing things change and enjoying the work that we have been doing. Also learning Lake Griffin with the pontoon boat. The question I asked myself is, Where Are the Bass? I think it must be the fisherman not being very good. This remind me of the six year old boy in the church play. He wasn't very good either. The night of the play his mother sat in the front row so she could help him with his line. It came time for his line and his mind was blank. His mother lipped the words to him. He looked up to the crowd and said, " My mother is the light of the world." Well l don't know what LINE ( pun pun) to throw them but I'm about as confused as the little boy in the church play. Golf....out the window. Work and by evening, just to hot. Vera and I went out to play one evening. Got to the seventh hole and stopped. In checking at the clubhouse it was 102 plus heat index. So you all know our happenings for the summer, now lets get together for a great winter. Look out Bass Here I Come.
Pray for the hurting people.
Managers Chet & Vera.

OCTOBER BIRTHDAYS: Annie Beetz, Jan Bohlinger, Betty Brunet,
Terry Colla, Hugh Day, Win Emmons, Barbara Forman, Robey Hintz, Lawrence Jacobs
OCTOBER ANNIVERSARIES: Charlie & Nancy Barcus, Vic & Gloria Hensel, Paul & Theresa LaPointe, John & Harriet Reeves
BE REMINDED THAT IF YOU WISH TO HAVE YOUR BIRTHDAY OR ANNIVERSARY MENTIONED IN THE SEAGULL, PLEASE SUPPLY THE INFORMATION BY PLACING IT IN THE BLUE SEAGULL BOX IN THE CLUBHOUSE.
FYI: Anyone interested in forming a Thursday afternoon "Beginning Drawing & Painting" class or other type craft class, please come to the clubhouse on Thursday, October 6th, at 1 :00 P.M. to discuss projects and particulars.
Jean McFerren
728-1657
COCKTAIL PARTY
The second summer cocktail party, on August 27th, was certainly a lot of fun with lots of laughs, good conversation and tasty hors d' oeu vre and snacks. Everyone is looking forward to the next one.
Judy LaQualia
LUNCHEON
On Thursday, September 15th, 16 guys and gals went to Gator Joe's on Lake Weir and enjoyed a nice lunch. Afterwards we all went out on the deck overlooking the beach. It was nice having "the guys" join us too. Let's keep these luncheons going now!
Judy LaQualia
That's all for now folks, if you have any contributions for the Seagull, please drop them off in the Blue Box marked "Seagull" in the clubhouse by the 25th of the month.
Seagull Staff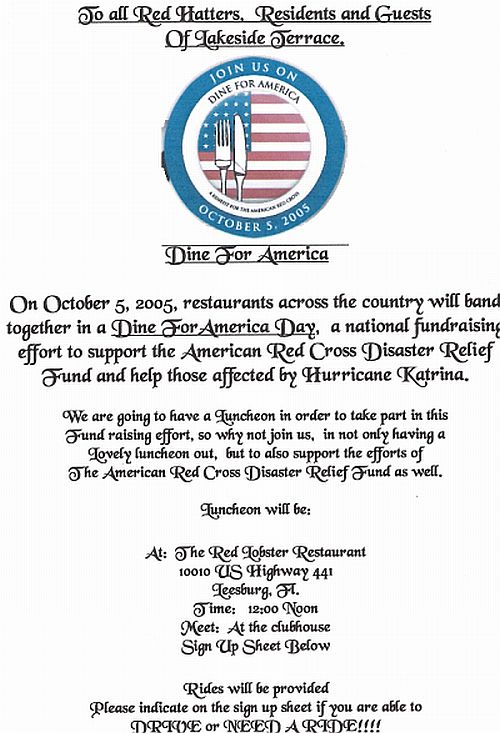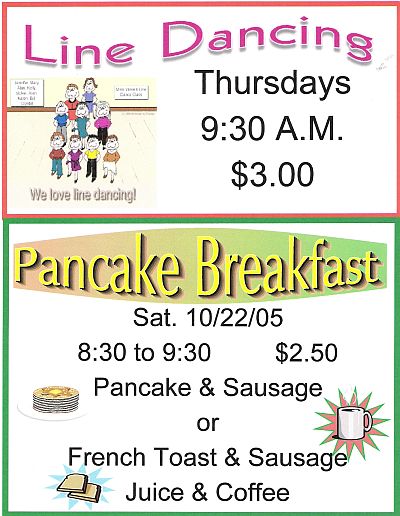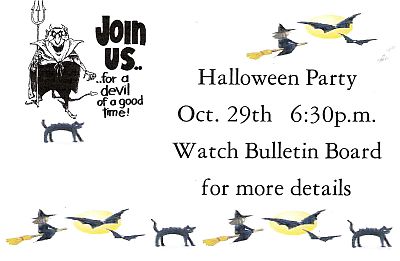 Lake County
Health Department Monday
November 14
9:00 AM
Lake County Health Department will offer flu and pneumonia shots. Flu shots are free with a valid Medicare Part B card, $25 without one. Pneumonia is also free with a valid Medicare card part B,$43 without one.
CDC recommends that everyone 65 and older get a flu shot each year. People 65 and older get a pneumonia shot at least once. For any questions please call the Health Department , Tetanus is also available at $37, needed every 10 years
352-589-6424
This date may have to be changed if there is a delay in the vaccine delivery. Please have your Medicare card, social security card and drivers license with you.
FLU SHOTS
WILL BE GIVEN
IN THE CLUBHOUSE