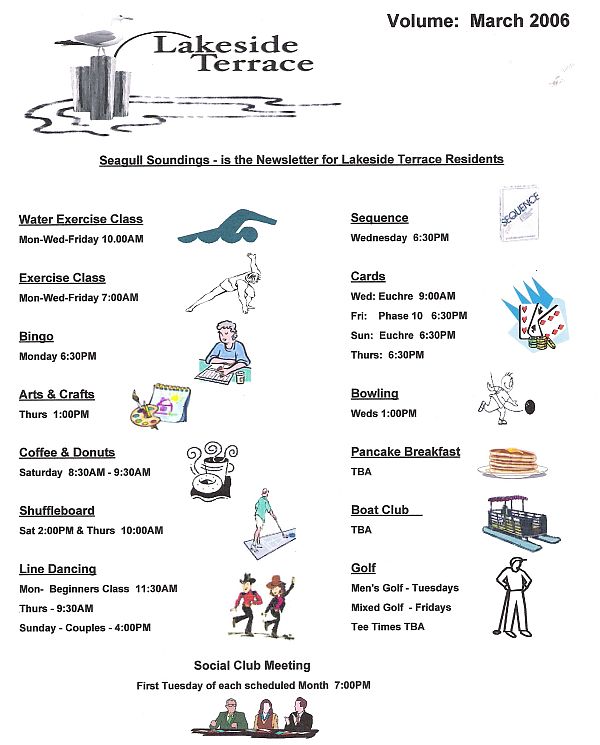 A MESSAGE FROM MANAGEMENT:
Paying Attention, Looking around, being alert can payoff.
Some people lined the sidewalks that despaired of ever getting a clear photograph. After several unsuccessful tries, I noticed a woman focusing her camera directly in front of her. I was about to shout to her that the shot was impossible, when she screamed, Everybody Duck!
Everybody in front of her ducked, giving her a clear view of the parade passing in front of her. She thanked everyone around her and went on her way with the best photo of the day. Well we have come to that time of year when a little of all the above can come in handy, plus a little planning.
Please let us know in the office, who is going to be your yard care person. Last summer was a nightmare trying to find out who was at fault in not taking care of the yards. The work some of them did left part of the community looking like a trailer park. This is not what Lakeside Terrace is about. Community pride isnlt a six month deal.
Take the time to look at your house to see if it needs to be washed, driveway, to see if it needs to be cleaned, and the trees if they need to be cut back so they donlt overgrow the home.
If each of you do this, we would be grateful and Lakeside Terrace would remain that little piece of paradise that you have enjoyed.
Vera and I would like to thank each of you for the kindness you have shown to us while we have been your managers. As of the twenty eighth of February we notified Hometown America that we will be leaving as managers on the thirty first of March to return to retirement.
Sincerely,
Chef & Vera




LAKESIDE TERRACE UPDATE
MARCH 2006
A Big Thank You
Peg Aniol and Dot Thompson for doing such a great job on the Seagull for so many years. Your hard work is appreciated.
Pattie Voelker and Michele Lennon have graciously agreed to step in as editors of the Seagull.
Walt & Mary Karwasinski for arranging trips for our residents for a number of years. Edd and I have been "in training" to take over as Travel Reps.
The following items were presented at the February meeting:
The Nominating Committee presented their slate of officers for 2006-2007:
Carole Kolbe President Jan Bohlinger Vice President
Judy Laqualia Treasurer Jean McFerren Secretary
There were no nominations from the floor so we will be serving on the Board for another year. We will continue to do our best to meet the needs of our residents.
Jan Bohlinger, Bingo Chairperson, expressed a need for floor workers and callers for bingo. If you are interested in working, please contact Jan.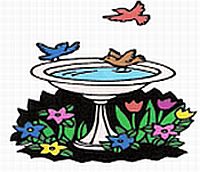 Loren Foote was authorized to spend $272 to set up the bingo audio as a separate unit and upgrade our other microphone system. Thank you - Loren!
There will be a lot of activities/events going on from now through March - so please be sure to check the Seagull and bulletin board in the clubhouse for information on what's happening.
Travel information is posted on the bulletin board. The past month was a busy travel month with a trip to Tampa Downs ( 17 people), Rivership Romance (22 people), and Sun Cruz Casino (47 people). In March we will have a group going to see "Menopause - The Musical" in Orlando. If interested in going on the Starlite Princess Riverboat on April 6th., please sign up. I'm also in the process of setting up a bus trip to Tampa's Hard Rock Casino on March 29th.
It has been a busy month and I haven't had a chance to check with committee chairs to see who will be serving this upcoming year. I will get that done prior to the March meeting and if anyone resigns we will need volunteers. At the March meeting we will be proposing that all seed money for the year be approved. I will have a list prepared of the committees and the amount to be approved. This will save time at the meetings; allow chair people to plan ahead and also give us better control over the spending. The committees would be able to ask for more money if needed.
We are working on a report to show you our income and expenses. Was hoping to get it done before now but will try to have it done by the March meeting. Reminder: Membership dues are due in March.
Carole Kolbe, Social Club President
REMINDER
March 3 rd FMO Storm Preparation Seminar 10:00 a.m.
Light Lunch following 12:00 noon
March 7th Wellness Fair 9 a.m.-12 noon
Social Club Meeting 7 :00 p.m.
March 11 th Breakfast Buffet 8:30 a.m.
March 26th Come to the Islands Party

TO OUR NEW NEIGHBORS:
The New Neighbor Listing was not available at the time of Printing. Please look for it in next monghts issue of the Seagull. We apologize for this omission.
MARCH BIRTHDAYS:
Rich Aniol, Guy Babcock, Dorothy Bowling, Phil Brunet, Sarah Casteel, Janet Cutler, Harold Davis, Elaine Hall, Vic Hensel, Florence Ignatowski, Bill Jones, Mary Karwasinski, Ann Reeves, Ron Schmitz, Nancy Vollmer.
MARCH ANNIVERSARIES:
Len & Margaret Guntle, Jim & Jean McFerren, Allen & Ann Reeves.
Note: If we do not have your birthday or anniversary on file please complete the form below and put it in the Seagull Box in the back of the clubhouse.
SUNSHINE REPORT FOR THE MONTH OF FEBRUARY
To our neighbors who were ill or hospitalized recently, We Wish You All Better Days and Healing too. Our Prayers and Best Wishes are Also Sent Your Way.
Get Well & Thinking of You Cards were sent to:
Ruth Mosman, Joe Hurley, Robey Hintz, Harriet Reeves, Harold Freeman, Edna Visconti, Sophie Kahle, Mary Sullivan, Evelyn Heinfeld, Nancy Byrd, Doris Patterson and Ray Lauterborn .
Sympathy Cards were sent to: Mr. and Mrs. Frank Alexander
-----------------------------------------------------------------------------------------------------------
SEAGULL BIRTHDAY & ANNIVERSARY INFORMATION FOR RESIDENTS
( please fill out, clip and place in the Seagull Box in the back of the clubhouse)
Residents full name:
Birthday: Month - Anniversary Month
Spouses full name:.
Birthday: Month - Anniversary Month
Residents Address:









VALENTINE PARTY A WONDERFUL AFFAIR!
Thank You Thank You Thank You I!!
Much thanks goes out to Nancy and Carl Wood for the delightful Valentine's Party they chaired for our Lakeside Terrace residents. Their committee consisted of Betty and AI Baker, Jean and Bruce Hatch, Sue and Doug Rice, Nancy and Dick Byrd, Mary Ann Paquette, Sarah Emerson and special helpers Nora Beck and Judy Nenning. Music was provided by Jerry Byrd, and also Lakeside Terrace Visitor Larry LaTourneau, who shared a couple of songs with everyone. Bruce Hatch acted as Master of Ceremonies with Mary Ann Paquette as his assistant in the Awarding of Door Prizes. The 50/50 Raffle of $67..50 was won by Sally Schuman, guest of Carolyn and Gary Salter. The delicious sit down dinner which consisted of either Orange Chicken or Cheddar Meat Loaves was served to 124 party goers. It was decorated in true Valentine Style. Dave Bohlinger took "Special Valentine" photos of everyone and had them developed before the party was over so everyone went home with their finished Photo. A Great Job by Everyone III
MARDI GRAS PARADE AND PARTY A GREAT SUCCESS:
Thank You Thank You Thank You !I!!
Eighty Eight people attended the Mardi Gras Parade and Party on Saturday February 25th. The Committee, headed by Nancy Barcus and Nancy Vollmer reported that they had 8 beautifully decorated golf carts and one van that participated in the Mardi Gras Parade. The Grand Marshall, Ray Vique, lead .the parade. The Van decorated by Harold and Charlotte Spence Led the golf carts playing grand ole Mardi Gras Music. The King, Wally Voelker and the Queen, Jan Bohlinger were next driven in a golf cart by Charlie Barcus. The best Decorated Cart Award went to Jim and Jean McFerren. They not only decorated their cart beautifully, but also dressed themselves in original Mardi Gras style, along with pet "Abby", who was dressed as a jester. Best Costume Award went to Pat Voelker whose lighted hat and teeth were a hit with everyone. Dave Bohlinger won the $32 award for the 50/50 drawing. Thanks to Harold Davis and Veda Lemcke who were judges for the event. After a delicious buffet the group enjoyed some fun & games. The Bean Bag Toss was a lot of fun. Many thanks to to Gloria Hensel who acted as scorekeeper. Jake Nenning and Judy Laqualia were the winners of the Toilet Bowl contest. Judy Nenning won the "Guess the number of bead necklaces in the Jar". Thanks to Nancy Barcus and Nancy Vollmer and their committee of Peg and Rich Aniol, Charlie Barcus, John Waite, Betsy Root, Shirley Harrison and Vic & Gloria Hensel and to everyone else who made the party such a success.
THANK YOU FROM A NEIGHBOR:
Even though I purchased my mobile home in April of 2005, I wasn't here long enough to get settled in. This time I was able to stay longer and to meet my neighbors. I want to Thank all my neighbors who have gone out of their way to help me get settled. " A BIG THANK YOU" to all the folks who gave me rides to bowling, Walmarts, church, dinner, etc. - I really appreciate your time and patience.
I enjoy all the activities and like helping out when and where needed. Thank you again, for the Warm Welcome" Take care and God Blessl
Pat Hammond - 18 Sunrise Lane







RIVERSHIP ROMANCE CRUISE: Eighteen residents of Lakeside Terrace enjoyed an afternoon on the St. John's River aboard the Rivership Romance Cruise on Friday the 10th. Carole and Edd Kolbe were in charge of the trip. They had a delightful meal which included an appetizer buffet of fruits, cheeses, warm sticky buns and more. The entre included either prime rib, herb crusted grouper, a pan seared chicken along with smashed potatoes,and vegetables. A family style salad was served with rolls, butter, coffee, tea, and cheesecake for dessert. Those who joined Carole and Edd were Nick and Judy Laqualia, Frank and Beverly Laqualia, Wally and Pat Voelker, Ray and Charlotte Vique, Phil and Dot Marcotte Lloyd & Evie Hall, Fred and Shirley Hassom and Charlie and Gloria Matias.
MONTHLY BREAKFAST BUFFET: Nancy Vollmer reports that there were over 95 residents and guests at the Saturday Morning Breakfast Buffet. The committee consisting of Nancy, Doug and Sue Rice, Rich and Peg Aniol, Shirley Harrison, Nancy Barcus, and Anne Reeves, prepared a delicious buffet of Juice, coffee, fruit cup, scrambled eggs, ham, biscuits and gravy, grits, bread pudding, hash brown potatoes and english muffins. The 50/50 winner was Joe Fitzwater. David Wiseman and Bonnie Hamilton each won a free breakfast for next months breakfast. Much thanks to all the hard workers who made this breakfast so successful and to all those who helped with the setting up and the clean up as well.
Tag, Bake Sale. Craft Sale & Lunch A Big Success: We would like to thank all those who helped make our annual tag sale a success. Even though it rained unmercifully we financially surpassed all previous years. The club cleared $493.35. A large thank you goes to Dick Bird and Doug Rice who were in charge of parking in all that rain. Nancy Wood's potato soup and beef barbecue were a hit in the kitchen. She was assisted by Sue Rice, Shirley Hassom, Glenda Kenny and Nancy Barcus.. Betty Baker and Mary Ann Paquette handled the bake sale while Carl Wood and Don Paquette were in charge of the donated items on the stage. Cheryl Bishop took care of the craft room. To all those who donated baked goods, helped set up and take down tables, and those who came to buy and enjoy lunch we say again a great big thank you. Jean and Jim McFerren
SUPER BOWL PARTY: Residents of Lakeside Terrace enjoyed a Super Bowl Party at the clubhouse around a brand new Large Screen TV. Dave Bohlinger reported that over fifty men and women enjoyed the game along with hot dogs, relishes, chips and dips and a variety of snack foods. Everyone enjoyed some good natured rivalry and Jim Buck, Jim Gehl, Dan Shoen, Carole Kolbe and Frank Hamilton were the winners of the Super Bowl Pools.
ON LINE SEAGULL INFORMATION REQUEST BY RICH ANIOL:
If anyone has anything that you may want to share with the rest of our community or If anyone has any new ideas or comments for the Lakeside Terrace web page please let me know and send it to me at LTseagull@aol.com and please include your name. If you want to be added on the mailing list or removed from it just send me your e-mail address and your name. You can also e-mail me from the Lakeside Terrace web site: (Iakesideterrace.net )
NOTICE: THOSE WITH CERTIFICATES FOR FREE MANICURES - Jan will be leaving the first of May. Anyone who has a Certificate for a Free Manicure, Please see Jan soon we she can schedule them and get them done. Jan is Licensed in the States of Florida and Michigan.
Jan Bohlinger - 314 - 2884











Ice Cream Social:
NOTE DATE CHANGE ( Due to Date Conflict with FMO Meeting.)
Friday March 10,2006 at 1:00PM - Join us for a delicious treat, with a variety of toppings and flavors available for just 50 cents a scoop. Gary and Nora Beck along with Jake and Judy Nenning will be your Hosts.
Bean Bag Baseball:
Saturday - March 11, 2006 at 7:00PM - Join in the Fun!!! Gary and Carolyn Salter, Dan and Kay Shoens will be your hosts for this event.
Openings for Shuffleboard Players:
Harold and Charlotte Spence announce that there are openings for Shuffleboard Players for Thursdays at 10:00am and on Saturdays at 2:00pm. All residents are invited to join the group, experience is not necessary, someone will be glad to show you how to play. You are sure to have a good time and enjoy some outdoor fun.
BOWLING NOTES:
Bowling Results for Week # 16:
Male: High Game Scratch-Wally Voelker-205, High Series Scratch-Wally Voelker-558" High Game Hdcp-Marvin Adams-248, High Series Hdcp-Marvin Adams-625, Over Average Game- Marvin Adams-69
Female: High Game Scratch-Mary Ann Paquette-193, High Series Scratch-Sandy Kurtz-431, High Game Hdcp-Mary Ann Paquette-248, High Series Hdcp-Bonnie Hamilton-639, Over Average Game-Bonnie Hamilton-66
Bowling Results for Week #17- Feb. 15:
Male: High Game Scratch-Wally Voelker-226, High Series Scratch-Wally Voelker-625 High Game HDCP-Wally Voelker-235, High Series HDCP-Edd Kolbe-667, Over Average Game-Edd Kolbe-41
Female: High Game Scratch-Ardena Nielson-183, High Series Scratch-Ardena Nielson-521 High Game Hdcp-Bonnie Hamilton 241, High Series-HDCP-Ardena Nielson-644, Over Average Game-Bonnie Hamilton-60
NOTICE: TO All BEGINNERS LINE DANCING CLASS MEMBERS:
Class time has been changed to Mondays at 11 :30 AM!!!
( Please Make a Note of this on your calendars. )
*****ANNOUNCING MOVIE NIGHTII
Movie is " I Walk The Line " (The Johnnie Cash Story )
Tuesday March 21st at 7:00pm. Bring your own beverage.
We will Have Popcorn.
Hostesses are Faye Adams and Norma Fudge

Mixed Golfers have a Great Time: Nine couples from Lakeside Terrace had a great time at Sarabande Golf Links on Friday February 10th. The next golf date will be Friday February 24. They will have a light Iunch following 9 holes of golf. Location and Tee Time will be announced. Anyone who is interested please contact Lois Wiseman and check the bulletin board for the sign up sheet. The couples Golf Group will meet every other Friday.
Mens Tuesday Golf: The mens golf league meets every Tuesday. There is a sign up sheet at the clubhouse. The sheet is taken down each Saturday. Richard Byrd confirms the course and how many will be playing. This past Tuesday there were 31 men who played at Summer Glenn Golf Course. The morning started off cool but it ended up being a beautiful day for the golfers. 42 people played golf on Feb. 21st at Arlington Ridge Golf Course The group is having a great time.
Anyone interested please get in touch with Dick or Doug.
Computer Class #101 For Dummies: The Computer class for dummies will continue to meet every Tuesday at 10:00AM at the clubhouse. All those interested in learning how to live happily with their computer are encouraged to attend. Bring your questions along with your lap top. If you do not have a lap top please come anyway and learn along with us.
Craft News From Jan Bohlinger:
ALWAYS CHECK THE BULLETIN BOARD FOR NEW SIGN UP SHEETS!
On March 2 - for those who missed out, Cheryl Bishop will hold a class in making Angel Music Boxes. Sign up sheet is posted in the clubhouse and the cost is $11. We have started our Community Quilt. Please come and make a square or two. We will have a raffle for it sometime next year.
On March 9th. Carolyn Elliott will be teaching a class on how to make Ribbon Roses.
On March 17th there will be another Inking and Rouging Class scheduled, with Susan Larson, a certified Instructor. You do not have to be an artist. Even if you don't feel you have any talent, you will be surprised to see what you can actually do. The fee is $35, cash only. It is an all day project so you may want to bring a lunch.
Also in March we will be making stationary as well as working on Swedish Weaving. Join us! Shirley Hassom will show you how to do this project.
Jan will teach the art of making Bunny Hats in March, just in time for Easter. (This is a fun project you won't want to miss.) If you are interested please sign up so that we will know what supplies are needed. Craft Price will be between $8 - $10.
LOOKING FOR CRAFT PROJECTS: LOOKING FOR IDEAS!!
We would like to know what you would like to do for craft projects in the future. We need your ideas. If you have something special that you make, please come and share it with your fellow crafters.
REQUEST: Everyone, Please save all types of greeting cards for a craft project to be done next year. Thank you!

Red Hat Piccidillv Lillv's of Lakeside Terrace News
Dear Red Hatters and Residents of Lakeside Terrace,
We are getting together to do something for our Service Men overseas. Doug and Sue Rice have provided us with the list of names of the men in their son's unit. There are 36 young men including Bradley. We would like to begin a project for our Lakeside Terrace Red Hatters and all residents of Lakeside Terrace. If each of us would take a few minutes to write a note, or card, (It can be a Thank You card, St. Patrick's Day, Easter, Thinking of You, whatever you wish.) We will provide a box in the clubhouse on the Kitchen Counter Area for you to drop it into. We will make sure that "EACH" member in that unit receives at least one card each month from us. With 36 names another idea would be for each of us to "ADOPT' a specific soldier and to write and remember him in little ways throughout the year. This will be further discussed at our next Social Club Meeting when we will collect the first group of cards.
We will also get a list of items that we could send to these men to let them know they are being thought of and how much they are appreciated.
Please join us in this effort, it takes only a few minutes of your time, and a card, no stamp is required, to bring some ray of sunshine to these men who are risking their lives to keep our country safe.
ALSO ANOTHER WAY TO SHOW YOU CARE:
In case you are interested, you can write to a wounded hero even if you do not have a name by Addressing your Notes and Cards to:
Any Wounded Hero
c/o Walter Reed Army Medical Center
6900 Georgia Ave.
Washington, DC 20307-5001
Let's Show OUR Communities Great Spirit of Generosity and Caring by participating in this project and by taking a moment from our comfortable life to give thanks to some of those men and women who are serving our country so that we can enjoy our freedoms.
Much Thanks,
Pat Voelker, Michele Lennon, Judy Laqualia, Jean McFerren, Peg Aniol, Faye Adams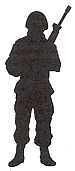 FMO Meeting February 22,2006
Woodlands at Church Lake
While this was only my second meeting for our District 3 FMO, it was obvious to me that these people were passionate and dedicated to The Federation of Manufactured Home Owners, of Florida.
In addition to this, they, as a volunteer organization, actively promote and educate all Florida manufactured home communities, of the need to be aware of the FMO Organization, as well as the importance of being knowledgeable of Chapter 723, The Florida Statutes of the Mobile Home Act.
What Chapter 723 does, for the tenants in Mobile Home Communities, is to guarantee that we get only one rent increase per year, and also that we may form an HOA - (Home Owner's Association). It also guarantees that the park owner meet with home owners to discuss issues, and fights to make sure that the park owners do not change Chapter 23. It allows us to take park owners to mediation, when appropriate. And it has an active Lobbyist and Political Director, who watch for legislation that might hurt us, like the Tax Bill that would have taxed all manufactured homes, even in rental parks, as real property. The Lobbyist saved the "tie-down program" as well as the Mobile Home Relocation Corporation.
While these are a lot of words and statements unknown to many of us, Chapter 23 is available and should be read by all mobile home owners. We are an older community, our insurance has increased dramatically, in the last few years. This has been due, not only to the destruction of communities, by the recent hurricane seasons, but also because of the age of our homes.
Take the time to t"md out where we stand now and what we should be thinking about in the future. Everyone should call and ask for copies of CHAPTER 723, The Florida Mobile Home Act.
To obtain 2 - 3 free copies, call toll free 1 - 800 - 226 - 9101. The Department of Business and Professional Regulations will mail them to you and you should receive them within 3 weeks. Even if you will be leaving Florida and returning to another state, it is important to know about the Statutes that affect your Florida Home.
Michele Lennon - FMO Representative District 3, LTMHC

LAKESIDE TERRACE HOME OWNERS ASSOCIATION - A General Purpose Meeting was held on February 16th with only 16 members attending.
The policy for filing complaints will remain the same as in the past. All complaints must in writing and signed. They may be handed to any Board member, or dropped in the Home Owners Association box in the Club House. The Board highly recommends that if you have a complaint, see the Managers first to see if they can work it out, if that fails then come to the board and we will do what we can, but always give the managers first chance.
The Chairman of our two Standing committees was introduced:
Negotiating Committee: Walt Karwasinski
Study Committee : Nancy Barcus
Speeding automobiles on our streets continue to be problem, especially on Clubhouse Drive. We have discussed this problem with our new Regional Director Jim Sellen, and our Community Manager Chet Brown. Speed in the Park will be monitored for a few weeks, and if no improvement, speed bumps will be placed and posted on Clubhouse Drive. Please slow down as I am sure nobody wants speed bumps on our streets.
The By-Law Committee has been appointed. They are the Board of Directors, Charlie Barcus, Michele Lennon, Norma Fudge, Peg Aniol, Jean Smith, and resident members Barbara Spencer and Dave Bohlinger. We have had two meetings, and have scheduled one more. A date of March 21st at 7:00PM has been set for a Special Meeting of the membership to read and vote on the proposed amendments.
The Special Membership Meeting on March 21 st is a very important one for all members. In order to conduct the meeting lawfully, we must have a quorum, which is a majority of all owners in Lakeside Terrace. Please try to attend the meeting if possible. If you can not attend please contact Peg Aniol (Secretary) at 314- 2477 or anyone of the Board of Directors for a proxy form. The proxies will be available by March 13th, and must be turned into the Secretary or anyone of the Board of Directors prior to the start of the meeting on March 21st. Charlie Barcus - President