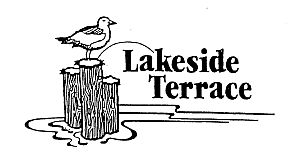 The Seagull Soundings
The newsletter for Lakeside Terrace Residents January 2006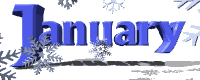 REMINDER
January 3rd Social Club Meeting 7:00 p.m.
January 12th Meet Your Neighbor 7:00 p.m. January 29th Casino Night ???
FROM YOUR MANAGERS
Vera and I would like to thank you for all the goodies, treats and cards that you have given us this holiday season. We appreciate your thoughtfulness. It is apparent everyday that we live in a caring community - but it is even more so during the holidays.
We would like to wish all of you Happy Holidays and the very best in the New Year.
Chet & Vera Brown





JANUARY BIRTHDAYS: Evan Anastasoff, Peg Aniol, Gary Beck, Bob Bryant, Mary Ann Cervenka, Jean Hatch, Lee Hayden, Carl Jackson, Jim Kuhn, Phyllis Levengood, Pat Schwartzmiller, George Strong
JANUARY ANNIVERSARIES: George & Mary Douglas, George & Lois Strong
MARDI GRAS: Put Saturday, February 25th, on your calendar for this event. Weather permitting, we'll have a parade, so plan to decorate your golf carts, bikes and yourselves! Prizes will be awarded. After the parade there will be food and games. Definite details in the February Seagull. Any questions, please call Nancy Barcus at 787-0499.
WELCOME: We wish to welcome our new neighbors, Harry & Carol Salmon from Mass., to 3 Sunrise Lane, Thomas & Pat Kedrowski from Mich, to 21 Lakewood Lane and also former resident Geneva Tolassi who will be at 54 Terrace Drive as of February 1 st.
The Holidays are over for another year and we at Lakeside Terrace were fortunate to have especially enjoyed the season a great deal due to the planning and work by several of our neighbors. We wish to offer our thanks to all those people involved. We truly appreciate your efforts.
On Sunday, November 20, over 140 residents and guests from Lakeside Terrace were treated to a wonderful Thanksgiving Dinner at the clubhouse
where management provided the menu of Turkey, Ham, Mashed Potatoes, Corn Bread Dressing, Homestyle Dressing, Cranberry Sauce, Rolls and Butter, and Coffee and Tea. Residents provided their individual tables with additional food items and deserts. Our sincere thanks to Chet and Vera Brown who are our Hometown America management team.
Hats off to New residents Marvin and Faye Adams took up the task of cooking for their first big function. They did a truly oustanding job.
Marvin and Faye worked for days in preperation for this meal along with theircommittee who either helped to cook the turkeys and hams, assisted in the kitchen, set up the tables, and/or helped to clean up after the party. Those who helped included, Veda Lemcke, Sally Cannon, Bonnie and Frank Hamilton, Norma Fudge,Dixie Tripp, Sophie Kahle, Shirley Hassom, Dottie Marcotte, Vera Brown, Peg Aniol, Pat Voelker, Rich Aniol and Wally Voelker.

Residents enjoyed a fun game of "The Not So Newly Wed Game" emceed by Sophie Kahle. Those participating as Not So Newly Wed Couples included Faye and Marvin Adams, Chet and Vera Brown, Frank and Bonnie Hamilton, Pat and Wally Voelker and George and Mary Douglas. The winning couple with the most points was George and Mary Douglas. Mary and George sure do know each other well after all these years.
A Trivia Game Followed with Faye reading off the questions. Trivia Winners with the highest number of points included Mary Karwasinski, Nick Laqualia, Jean McFerren, and Beverly Herrin.
Beverly Herrin read a fun poem about the Holidays and everyone enjoyed some well intended laughter.
Chuck Powell won the 50/50 and Charlotte Spence won a beautiful Christmas Wreath raffled off by the Craft Club.
A sincere thank you to Faye and Marvin Adams and their committee for a truly outstanding job.
PAT.V.

Again our Community has been indeed fortunate to have such wonderful residents
who step up and take over the tasks of committee chairmanship. Thanks to Harold
and Charlotte Spence for the wonderful job they did for the Lakeside Terrace Home Alone Christmas Dinner.
A wonderful menu of Turkey, Ham, and all the fixings including an array of pies was
served to over 60 attendees at 1:00 pm at the community clubhouse. The committee also included Nancy and Carl Wood, Betty and AI Baker, Glenda and Charles Kenny, Joyce Boom, Cheryl Bishop, and Shirley and Fred Hassom.
After dinner the group sang Christmas and played Bean Bag Baseball and they also enjoyed a gift exchange.
Much thanks again to Harold and Charlotte and their hard working and thoughtful
committee for bringing the holiday spirit to those residents who were home alone
for the holidays
Pat V.

Harold and Charlotte would also like to remind residents that they are are having ice cream social on Friday January 6th at 1 :00 P.M. All residents are invited to participate. There will be several flavors of ice cream available and a variety of favorite toppings. Join the fun and company of both old and new neighbors over a delightful ice cream treat.
Beanbag Baseball will be held on Saturday January 14th at 7:00 P.M at the clubhouse. All residents are again welcome and Charlotte and Harold Spence promise a fun filled time

For the Month of December, 2005
To our neighbors who were ill or hospitalized recently,
we wish for you all better days and healing too, combined
with good cheer and strength.
Get Well and Thinking of You cards were sent to
Mary Green
Sophie Kahle
Ruth Mosman
Virginia Parkinson
Please notify Michele Lennon at 314 9809 or post names
on the board, of any of our residents who have been ill or have suffered a loss. Your continued help will be greatly appreciated.
Blood Pressure Checks
We invite our new residents and those returning to Lakeside Terrace every Tuesday from 9AM -10 AM in the Pool Room at the Clubhouse.
Health and Wellness Fair
March 7, 2006
9 AM -12 Noon
In the Clubhouse
Make sure and mark down the date
Health care Providers and Community Agencies
Refreshments
More Information to follow

Residents of Lakeside Terrace would like to thank the many wonderful craft people who have held so many terrific craft projects recently. Carolyn Elliott was in charge of the Christmas Lighted Bottle Craft and all the class made beautifully decorated glass jars filled with potpourri and mini christmas lights.....decorated with an array of fabrics and christmas ornamentation. Thanks Carolyn It was not only fun but sure added a lovely touch to our holiday decorations.
Cheryl Bishop and Carolyn Elliott also held a class making beautiful I Music Box Angels, that were as pretty as could be with a variety of laces and bows. What a
great class that was.....they all looked lovely and each had their own individual style and flair.
Thanks to Shirley Welch many ladies gathered to craft class to make some sensational rag rugs. The class was enjoyed by all and their rugs were admired by so many either watching or making them.
Jean McFerren has been holding art classes for pencil sketching and several of the residents meet each week to improve on their drawing skills. Right now they have been doing still life work and will move on soon to painting. Thanks to Jean for her patience and help.
There are many wonderful crafts out there and residents are encouraged to check the bulletin board for more new and exciting classes. Everyone is invited to participate and meet at the clubhouse on Thursdays at 1 pm for crafts and Mondays at 1 pm for the art class.
Again much thanks to all of the people who take the time to show residents new crafts and to assist them past and present and those coming up as well. You are all greatly appreciated.
Pat V.
Hello.
Two left Feet Beginners Line Dancing Will Start on January 11, at 11.00 am. The cost is l.dollar per week. Crafts is having a series of painting classes showing the technic of inking and roughing. The first 2 classes are filled. The cost is $15.00. The third class has yet to be filled. The date of that class is Jan 26th. the filled classes are on the 12 and the 19th. Come to the clubhouse and see what it is all about. On the 28th of January the social club is having a Casino night.Starting a 4:00 P.M.Ticket price will be determined after social club meeting.
Jan B.

LAKESIDE TERRACE UPDATE
January 2006
It's won't be long and we will be welcoming in the new year.
So Happy New Year to you and may you have happiness and good health in 2006.
My apologies for not getting the 2006 Directory out sooner. I was planning on getting it out before Christmas but due to various reasons was unable to. We plan on having the directory out by the 1st week in January. If you do not receive one, please call me at 728-8121 or e-mail at cakolbe@yahoo.com. Also any additions or changes need to be given to me. Thanks for your understanding and cooperation.
Special thanks to the Christmas decorating committee who worked very hard on making our community look so festive for the holidays. Also my thanks to Edna Visconti who volunteered to make the chili for our Chili Light Up Supper. She took charge and cooked for at least 2 days. Everyone must have enjoyed it because there was none left. More thanks to the people who baked brownies and to Dan Gehl who gave us a break serving so we could eat. One thing for sure - you don't go hungry here. Reminder to Decorating Committee -We will be taking down the Christmas decorations on Saturday - January 7th after coffee and donuts (9:30ish).
Appointment of a Nominating Committe: I need five people to serve on a Nominating Committee - if you are interested, please contact me at 728-8121 or e-mail me at cakolbe@yahoo.com.
The following items were discussed at the December meeting:
A committee was formed to meet to discuss the issue, get information from other Social Clubs on how they operate, and come up with ideas to present to the membership. I'm reprinting what I had in December's Seagull since some residents may not have received the December issue. A number of residents have approached me about the split ticket prices for events. So I guess we have to address this issue once again. For those of you who are new to our community I will give a brief explanation. Prior to November 2004 non-social club members were charged $1.00 more for event tickets (i.e. New Year's Eve, Valentines, St. Patrick's and entertainment shows). The previous Board proposed a change in that policy-charging non-social club members 150% of the price of a ticket for a Social Club member (if Social Club member paid $3.00 then a non-social club member would pay $4.50). This change was voted on and passed. I realize that we will never make everyone happy but I think we can come to a more agreeable solution

Approval was given to waive the split prices for activities that do not require the selling of tickets - for example - Saturday morning coffee & donuts, Saturday breakfasts, ice cream social, etc. These activities provide an opportunity for all our residents to get together in friendship.
Approval was given for the recently donated music organ to be checked by a repairman at a cost of $85 for the service call and up $250 for repairs. Note: The cost including the service call was $202. Thank you, Harold Spence, for obtaining the organ and contacting the repairman.
Approval was given to designate the income from the Chili Light Up be applied to the purchase of decorations next year. NOTE: When the decorations come down this year we will be doing an inventory and will be able to provide our members with a list of items that will need to be purchased for next year.
A Thank You letter will be sent to Hometown America for their generous support of our Thanksgiving Dinner, Christmas decorations and Christmas Home Alone Dinner.
There will be a lot of activities/events going on from now through March - so please be sure to check the Seagull and bulletin board in the clubhouse for information on what's happening.
Four couples (Kolbes, Karwasinkis, Halls, Blums) spent Christmas on a Royal Caribbean cruise. A lot of you have been on a cruise, but Edd & I hadn't so we weren't sure what to expect. Well - if you have never gone on one - you have to try it. In fact, Walt & Mary K signed up for the Christmas cruise next year and Edd & I have signed up for the New Year's Eve cruise next year. If you want more information, please contact Mary K or me.
Other travel information is posted on the bulletin board. Upcoming trips (info and sign up sheets are in the book by the Travel board) include:
Tampa Downs January 31 st Tuesday
Rivership Romance February 10th Friday
'Menopause - The Musical' March 15th Wednesday
Starlite Princess Riverboat April 6th Thursday
We will periodically put up sign up sheets for the Sun Cruz or Sterling Casino cruises - so watch the bulletin board.

Meet Your Neighbors
January 12th - 7 p.m.
Come meet your neighbors and get acquainted over coffee and dessert. Learn about the activities and events at Lakeside Terrace.
: Coffee provided by the Social Club and each resident is asked to bring their favorite dessert to share.
NOTE: Anyone who is in charge of an activity should be prepared to speak briefly about that activity.

LAKESIDE TERRACE SOCIAL CLUB
(Repeating this again in case you didn't get the December Seagull)
Since we have a lot of new residents, thought this would be a good time to explain what the Social Club is and what we do. The purpose of the Social Club is to provide social activities for ALL. Maintain and purchase equipment for Social Club activities. Promote the spirit of loyalty, cooperation, happiness and fellowship among ALL.
I didn't realize until I became an officer how much equipment we have and all the activities that are provided by the Social Club. We have bingo equipment, audio equipment, kitchen equipment, ping pong table, piano, organ and keep up the maintenance on our equipment. We maintain the library, stage, pool table, and shuffleboard courts. These things require money. The membership dues we collect are used to purchase and maintain these items. We also need money to provide the weekly activities and monthly events. Membership is only $12 per year per person - that's less than 4 cents a day. I realize that some people just don't
join things but I think all residents need to be aware that the membership dues and the tickets sold for events allow us the opportunity to provide so many activities for our community.
The following activities are available and if funding is needed for supplies - it is furnished by the Social Club:
Arts & Crafts
Bingo
Bowling
Christmas Home Alone Dinner
Community Directory
Good Sam's Committee
Ice Cream Socials
Line Dancing - Thursday
New Year's Eve Party
Seagull Newsletter
Sunshine Committee
Travel Committee
The Social Club is a big selling feature when people are looking at homes in our community. Show your support of this community and join the Social Club. Once a member it is your choice how involved you become.

Bean Bag Baseball
Blood Pressure Checks
Breakfasts
Christmas Party/Toys for Tots
Easter Dinner
Halloween Party/Ocktoberfest
Ladies Luncheon
Mardi Gras
Red Hat Society
Shuffleboard
Tag Sale
Valentine's Day Party

Bible Study
Boat Club
Cards & Games
Crime Watch
Good Neighbors Committee
Horse Races
Line Dancing - Monday
Men's Golf
Saturday AM Coffee/Donuts
St. Patrick's Party
Thanksgiving Dinner
Wellness Fair
Web site

Annual Lakeside Terrace Sale information......
Crafts, Flea market items, BakeSale, Lunch
The annual sale will be held at the clubhouse, here in the park, on Friday and Saturday, February 3rd. and 4th., 2006.
On Friday evening, February 3rd, park residents only, are invited to come and buy from 6 till 7 p.m. On Saturday the public is invited from 8 a.m. till 2 p.m. Note the change of time as to give more people opportunity to come in to buy lunch and sit and visit if they choose.
There will be a sign-up sheet on the bulletin board at the clubhouse to sign up for tables. Only one table per household in the beginning but if there are extra tables you may have more than one. Each table owner should donate either $3 or a homemade baked good for each table used.
The Bake Sale and Lunch will be on Saturday only. This is a fund raiser for the club so everyone is asked to donate something to be sold either at the Bake Sale or the Social Club table which is located on the stage.
You should plan to man your table at all times and stay till the sale is over at 2. Nothing should be sold before 6 p.m. on Friday. Volunteers are needed to set up tables at 10 a.m. Friday. All your priced items may be brought in after 12 noon on Friday.
Crafters are especially invited to set up tables as well as those with flea market items.
If you have nothing to sell at least come to buy and enjoy a delicious lunch...it benefits all of us by supporting the Social Club responsibilities and events. We advertise in the paper and posters and signs in town but you can also spread the word and help by distributing flyers to bring in more people. See Jean McFerren, 31 Lakewood Ln, 728-1657, for more information and to pick up flyers.
That's all for now folks, if you have any contributions for the Seagull, please drop them off in the Blue Box marked "Seagull" in the clubhouse by the 25th of the month.
Seagull Staff
HAPPY NEW YEAR EVERYONE!!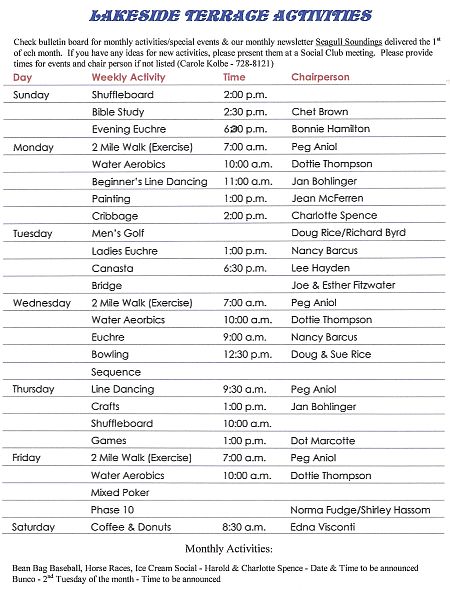 NOTICE
The annual meeting of The Lakeside Terrace
Homeowners Association will be held on
Tuesday January 10, 2006
at 7:00 P.M. in the clubhouse
All residents are welcomed and encouraged to attend.
The Lakeside Terrace Homeowners Nominating
Committee have submitted the following names as
nominees for the Board of Directors
Norma Fudge and Michelle Lennon
Election will be held at the annual meeting
January 10, 2006