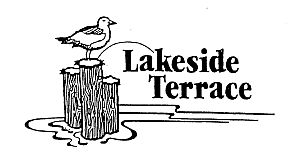 The Seagull Soundings
The newsletter for Lakeside Terrace Residents

SEAGULL SOUNDINGS APRIL 2005
REMEMBER SOCIAL CLUB MEETING
TUESDAY, APRIL 5, 2005, 7:00 PM
WELCOME: Lakeside Terrace residents would like to welcome new resident managers Chester & Vera Brown to our community. We look forward to getting to know you and are confident you will enjoy Lakeside Terrace. Also welcome to new residents and neighbors: Charles & Marion Cantz , 26 Driftwood Lane of New Jersey; JoAnn Hurley, 36 Lakeview Drive of Michigan; Wesley & Marjorie Freeburg, 39 Lake Griffin Drive of Pennsylvania; Russell & Carolyn Abbott, 10 Clubhouse Drive of Michigan; David Jones & Susan Chadwick, 59 Lake Griffin; and Ronald & Joan Cusiano, 28 Lakeview Drive of New York.
HEALTH FAIR: Many thanks to those who assisted in the planning of the Health Fair, and also for your help in the setting up and breaking down of the clubhouse. We truly appreciate the help from Mary Sullivan, Jan Bohlinger, Ruth Mosman, Shirley Hassom, Rich Aniol, Jim McFerren, Wally Voelker, Pat Voelker, Sally Cannon, Jean McFerren, Harold Spence, Carl Woods and Frank Hamilton.
Approximately 90 people attended and enjoyed the refreshments as well as the information available. Prizes were won by many community residents. Next year, we will hope to expand the vendors to include Screening Agencies as well as The Deaf and . Hearing Services.
The Lake County Health Department has agreed to come to our community in the fall to set up a clinic for flu shots. This will make it much easier for our residents and will hopefully cut down the travel and waiting time in other areas. Approximately 20 flu shots were given at the Health Fair. Many thanks to the people at Lake County Health Department for being available to assist us during flu season next fall.
Michele Lennon
LIBRARY: On Friday, March 11th, eleven people purged the Library, handling each book and cleaning the shelves. Those who worked were: Cheryl Bishop, Mary Douglas, Carolyn Eliott, Doris Patterson and Daughter Cheryl, Dottie Rittburg, Ron Schmitz, Jean Smith, Charlotte Vigue and Nancy Young. Twenty-four bags of books were taken to the Thrift Store and the VFW who sell the books and use the money for their children's programs. Thank you to Cheryl and Ron for distributing the books. Thank you to all the residents who have donated books for all of us to use.
If you have an questions regarding the Library, please contact Nancy Barcus at 787-0499.

EASTER DINNER: Lakeside Terrace Easter Dinner was held on Sunday, March 27, 2005. Hometown America and The Lakeside Terrace Social Club once again provided this dinner for Lakeside Terrace Residents.
It was a sunny Easter Sunday afternoon, and the Clubhouse was decorated in spring colors and flowers. The room was a buzz with friendly conversations and the smell of good food. Committee members Rich & Peg Aniol, Nancy Vollmer, John Waite, Lee & Ron Hayden, Edd & Carole Kolbe, Ruth Mosman, Sue & Doug Rice and Dorothy Thompson served a delicious ham dinner prepared by Nancy Vollmer. There were 108 residents and 18 paying guests in attendance. Volunteers delivered a number of dinners to Lakeside Terrace shut-ins.
Committee Chairperson Peg Aniol would like to take this opportunity to apologize to any resident who had wanted to attend this dinner and was not able to because seating capacity of 168 was reached on the sign up sheets two weeks prior to Easter.
Peg Aniol
APRIL BIRTHDAYS: Andy Allgood, Betty Baker, Eula Brisendine, Betty Bumbalough, Mary Byer, Bill Cutler, Evelyn Foote, Joe Hurley, Sophie Kahle, Edd Kolbe, Jeanne Lahr, Nick Laqualia, Charles Mueller, Lois Strong, Dorothy Thompson
APRIL ANNIVERSARIES: Al & Betty Baker, Arthur & Barbara Fonnan, Bob & Elaine Hall, Larry & Bea Jacobs, Edd & Carole Kolbe, Bob & Nancy Murphy, Paul & Jeanette Valentino
TO OUR NEIGHBORS WHO WERE ILL OR HOSPITALIZED RECENTLY, WE WISH FOR YOU ALL BETTER DAYS AND HEALING TOO, COMBINED WITH GOOD CHEER AND STRENGTH. IN MARCH, GET WELL AND THINKING OF YOU CARDS WERE SENT TO PAUL LaPOINTE, WIN EMMONS, JOY HAHN, AUDREY CALHOUN, NORMA FUDGE, JOE HURLEY, TERRY COLLA, HAROLD SPENCE AND CHARLES MUELLER.
Sympathies are extended to Joan Braun and Family for the loss of husband and father, Bob and to Betty Bumbalough for the loss of her husband Bill. Sympathies are also offered to Ed Green for loss of his mother, to Andy Allgood for the loss of his father, to Ellen Lueker for the loss of her brother, and Rob Spencer for the loss of his sister.

THANK YOU: My children and I would like to thank each and everyone of you for the many cards, kind words, thoughts and prayers offered at the time of our loss. As always in time of need or grief, this community is especially kind and giving and it is much appreciated.
Thank you all,
Joan Braun and Family
That's all for now folks, the news cut off date for future issues of the Seagull will be the 25th of the month.
Editors: Dorothy, Peg & Rich
ODE TO MY WIFE THE QUILTER
She learned to quilt on Monday,
Her stitches were very fine,
She forgot to thaw out dinner,
So we went out to dine.
She quilted miniatures on Tuesday,
She says they are a must,
They really were quite lovely,
But she forgot to dust.
On Wednesday it was a sampler,
She says the stipling's fun,
What hi-lites! What shadows!---
But the laundry isn't done.
Her patches were on Thursday,
Green, yellow, blue and red,
I guess she really was engrossed,
She never made the bed.
It was wall hangings on Friday,
In colors she adores,
It never bothered her at all,
The crumbs on all the floors.
I found a maid on Saturday,
My week is now complete,
My wife can quilt the hours away,
The house will still be neat.
Well, it's already Sunday,
I think I'm about to wilt,
I cursed, I raved, I ranted,
The MAID has learned to QUILT!

Message from Social Club President
Thank you for your vote of confidence and your support. The Board and I will do our best to have a rewarding and fun year.
Many people have asked why they should join the Social Club? The Social Club provides activities and entertainment for our members and residents. These activities are a great asset and provide an incentive for people to buy a home in Lakeside Terrace. By joining the Social Club you are supporting our activities and our community.
If you haven't been involved in the preparation for an activity or event you may not realize how much the Social Club contributes to this community - bingo, shuffleboard, crafts, entertainers, newsletter, parties, bowling, golf, cards, games, etc. Supplies are purchased for the kitchen so the individual committees don't have to purchase those items for parties.
We need help to continue the parties this upcoming year. People are needed to chair and/or co-chair the following activities:

Crime Watch
St. Patrick's Day Party
Valentine's Party

Easter Dinner (2006) Saturday Coffee

New Year's Eve Party Thanksgiving Dinner

If you are willing to help out, please contact me at 728-8121 or via e-mail at Cakolbe46@wmconnect.com. We need to step up to the plate and give the people who have chaired these activities for the past few years a much deserved break. We owe them a great big THANK YOU for all the work they have put into these activities. If we can't get people to help out then some of the activities will be cancelled. Maybe it's time for a change - if you have an idea for a party or entertainment, bring it to my attention.
If you see an activity on the list you would like to help out on - please contact the chairperson and volunteer your services. I know they would appreciate it.
Please feel free to put any suggestions or comments you may have in the Social Club box at the clubhouse. We need to know what you think is working and what's not working.
Share your ideas with us - We welcome your input.


LAKESIDE TERRACE BOWLING LEAGUE 2004-2005
We have had a great league, we began on 10/20/04 with five teams participating and ended our Fall Season on 12/29/04. Our Winter Season began on 1/5/05 and before the season ended on IvIarch 23rd \ve had eight teams. On March 30th a roll off will be played to determine the winner of the f004-2005 Lakeside Terrace Bowling League. A Pizza Party will be held at the clubhouse to honor the winners and to give certificates of recognition to individual players. Please check the bulletin board in the clubhouse for a list of the winners.
A special "Thank You" for all who joined in our league this year. .A.s many of you are aware, Nancy Byrd was unable to bowl this year because of foot surgery but Nancy was there each Wednesday to cheer us on and she graciously agreed to handle the paper work each week. Thank you Nancy for a job well done. A big "Thank you" to Dave Bohlinger for preparing the certificates.
If anyone is interested in joining our league in the Fall, please check the bulletin board in the clubhouse and sign up. You are missing a great time, if you do not join us on Wednesdays at the Leesburg Bowling Lanes at 1 :00 p.m.
Sue and Doug Rice
March 28, 2005

723
"With Liberty and Justice For All"
GOOD NEWS
I had not intended to submit an article for this month's Seagull,
but the Federation of Manufactured Home Owners of Florida (FMO) have instituted a new feature in their FMo news to members..
Each issue will now contain an excerpt from Florida Stuatute 723. This is the organization that was directly responsible for passing this legislation.
The current topic is FI St. 723.037 -Lot Rental Increases,
Reduction in Services or Utilities; Change in Rules and Regulations; mediation.
FMO considers this section as required reading for every manufactured home owner in Florida.
This publication also features a regular column "Legal Ease", in which you can ask legal counsel Justin Joseph questions regarding any part of law concerning your park owner, home owners assn., etc.
I have quoted this column in previous articles. If you are not a member of FMO, you might consider joining as it is a very worthwhile venture and is dedicated to protecting your RIGHTS!!! This people will even send your mailings to any address you stipulate according to the months you will be there, in the event you are a seasonal resident. Membership is $20.00 annually. They may be reached at FM0-4020 Portsmouth Rd., Largo, FL 33771-3399 Ph. 727-530-7539 or website: wwwfmo.org
FL Statute 723 can be assess on the internet @flsenate.gov/statutes
Submitted by Keith Park